Certified Chevy Service Center – Schedule Service, View Maintenance Schedule, Service Offers, Oil Changes, Brake Repair, Tires & More
Is your Chevrolet car, truck, or SUV due for maintenance? Have you noticed your vehicle's performance isn't up to par? For reliable and professional automotive service, you can turn to the Mike Anderson Chevrolet service center in Chicago, IL. We have factory-trained technicians on staff to maintain and repair your beloved vehicle so it will stay on the road for as long as you need it to. Learn more about the Chevrolet auto services we offer at our dealership in Chicago. Schedule auto service by using our online form. You can also give our service team a call at (773) 465-2000.
---
Chevrolet Maintenance Schedule
When it comes to vehicle upkeep, following a strict maintenance schedule will ensure that your Chevy car, truck, or SUV is running at peak performance. You can find your model's maintenance schedule in your owner's manual, or a Mike Anderson Chevrolet of Chicago service specialist can assist you in finding the correct one. Don't forget to check out Chevrolet service specials to save on one of many maintenance services.Service Specials
---
Chevrolet Oil Change
Frequent oil changes ensure your engine and all of its components are thoroughly lubricated. This is a service you don't want to skimp on because it is essential to your vehicle's long-term health. Ask your Mike Anderson Chevrolet of Chicago service technician which type and brand of oil is best for your specific vehicle.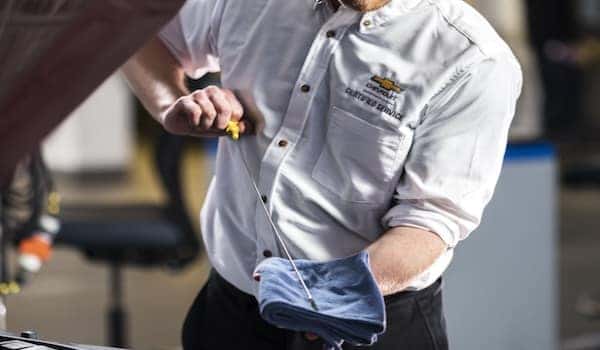 ---
Chevrolet Brake Service
If you notice that your brakes aren't as responsive as they usually are, we recommend bringing in your vehicle for a brake inspection. Brakes are one of the most important safety features on your car so don't hesitate when it comes to brake servicing and repair. Whether you need brake repair or replacement, your vehicle is in good hands at our Chevrolet auto service center in Chicago, IL.
---
Chevrolet Tire Replacement
No matter if you need a tire replacement due to a flat or an entirely new set of tires, Mike Anderson Chevrolet of Chicago has a great selection to choose from. We can also patch up flat tires with minimal damage for a quick, easy fix.Tire Center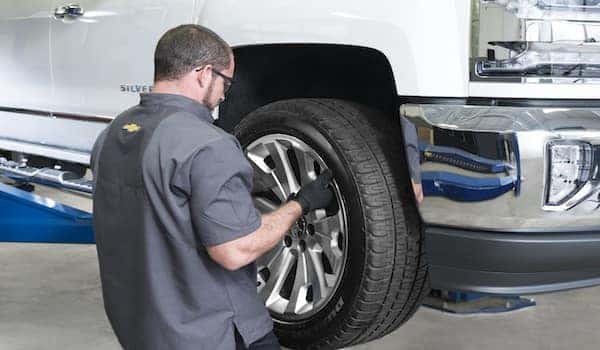 Edit
SERVICES
MIKE ANDERSON CHEVROLET
NTB
JIFFY LUBE
FIRESTONE
OIL EXCHANGE
OIL N GO
Free Car Wash
YES!
N/A
N/A
N/A
N/A
N/A
Free Shuttle Service
YES!
N/A
N/A
N/A
N/A
N/A
GM Trained, ASE Certified Technicians
YES!
N/A
N/A
N/A
N/A
N/A
Genuine GM Parts
YES!
N/A
N/A
N/A
N/A
N/A
Warranty Repairs
YES!
N/A
N/A
N/A
N/A
N/A
Oil & Filter Change, Rotate Tires
(Up to 6 Quarts)
dexos1 Synthetic
$49.95
$45.98
$62.98
$57.00
$54.90
$53.98
Oil & Filter Change, Rotate Tires
(Up to 8 Quarts )
dexos1 Synthetic
$59.95
M/A
N/A
N/A
N/A
N/A
Wipers
$22.00
$30.00
$30.00
$28.00
$22.00
$22.00
Front Brake Pads Installed
$109.95
$138.95
N/A
$169.95
N/A
N/A